remodeling loan
How Does a Remodeling Loan Work?
by Carl Carabelli
If you need a bit of sprucing up to make your dream home a reality, a remodeling loan can get you where you want to be. To get a remodeling loan, you will develop a budget and plans for the renovation. The lender will give you a credit line to use as you move ahead with the remodeling process. Once the the renovations are complete, the loan will convert to a traditional mortgage.
When you first apply for a remodeling loan, you submit a budget, plans and specs to the lender. You also develop a draw schedule. This schedule tells the lender approximately how often and how much you will draw from the line. Unlike home equity lines of credit, draws on a remodeling loan are non-revolving. This means that even if you pay down principal before the loan converts, you will not have those funds available again. When you need to make a draw, you submit invoices and an inspection report to the lender to show the progress being made. If satisfied that the project is on track, the lender will advance the money per the draw schedule.
During the draw period, the loan will carry a floating rate based on an index plus a margin. The index is the base rate, typically Prime as published in the Wall Street Journal. The margin is the percentage above or below the base rate. If your loan is priced at Prime plus 1 percent with Prime being 3.25 percent, the net rate is 4.25 percent. The term floating rate means that the rate changes along with the index. This means if your rate is Prime plus 1 percent and prime goes down to 3 percent, your new net rate is 4 percent. The rate goes into effect the same day the base rate changes and stays there until it changes again.
The draw period is based on the time you estimate for completion when drawing up your budget. Typical remodeling loan draw periods are 6 to 12 months. Often, your lender will insert an automatic extension clause into the promissory note to account for unexpected delays. These automatic extensions are typically between 3 and 6 months. The draw period is over on the earlier of the project completion or the expiration date as detailed in the note.
After the draw period ends, the loan will convert to permanent financing. The funds that have been advanced for the remodeling will essentially become a conventional amortizing mortgage. During the draw period, you will pay interest only monthly on the funds that you've advanced. When the loan flips to permanent, you will pay equal installments of principal and interest sufficient to pay down the loan over the agreed upon term. Your rate will change from floating to fixed once the loan converts to permanent financing.
Carl Carabelli has been writing in various capacities for more than 15 years. He has utilized his creative writing skills to enhance his other ventures such as financial analysis, copywriting and contributing various articles and opinion pieces. Carabelli earned a bachelor's degree in communications from Seton Hall and has worked in banking, notably commercial lending, since 2001.
Here's How to Finance Your Remodel
A home renovation project is an excellent way to make your home more functional for your family's lifestyle, and it also typically is completed to improve décor and enhance property value. While many people dream about completing a home improvement project, the.
These Mortgages Pay for Home Renovations
A home renovation project is the perfect solution to your need for more functional space in your home, and it can also improve style and decor for added benefit. A common challenge that homeowners face when preparing to renovate their property is financing. If you.
While purchasing a dilapidated home and turning it into a dream home like you see on those hit reality shows on television may sound like a fabulous idea, many potential home buyers who want to buy a fixer-upper are often scared off by the remodeling costs to come.
6 Ways to Finance Your Dream Home Improvement Project
Improving your home through a major renovation project can make the home more aesthetically pleasing as well as more functional for your family to enjoy on a daily basis. More than that, many home improvement projects have a direct and positive impact on property.
Construction Remodeling Loans vs. Home Equity Loans: Two Home Improvement Loan Options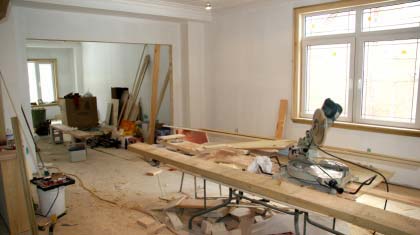 W ith increasing standards of living, ever higher real estate values, and neighborhood gentrification, rehabilitating or remodeling an existing home to add square footage, improve aesthetics and function, and enhance curb appeal is more popular than ever.
Strictly speaking there is no such thing as a home Improvement loan, though some lenders may use the term for branding purposes.
Depending on the scope of the remodeling project and the equity in your property, two types of home improvement loans are available.
Remodeling Construction Loans: You borrow based on the post-renovation value (future value) of your home and make no payments during the remodeling period.
Home Equity Loans or Lines of Credit: You borrow based on the existing equity available in your home. The proceeds pay for the project up front and you pay the loan off over several years.
In an extensive remodeling project, which may consist of completely razing the house and rebuilding from ground up, or gutting a good part of the house and adding a substantial amount of square footage, borrowing against the existing equity will simply not be enough to fund the project.
For these types of projects, a remodeling construction loan is the only option. The loan value is based on the Future Value Appraisal of the property, so the appraiser uses the plans and specifications of the project and finds comparable recent sales in the neighborhood that are similar to your future finished home.
When you purchase or refinance, the loan amount is based on Loan-to-Value Ratio (LTV), but in a construction loan, the loan amount is based on the Future Value (LTFV) and the Loan-to-Cost ratio (LTC). Depending on the loan amount and LTFV, you can borrow up to 95% of LTC, subject to credit and income qualifications.
When your new remodeling construction loan funds, the construction lender will pay off all existing liens and keep the balance, which is then disbursed to you in stages as each phase of the project is completed and inspected both by local authorities and the lender.
Either you or the contractor will have to float the funds necessary for each stage of construction until such time as the inspections are completed and the balance is funded by the lender, so it's very important to have a clear understanding with your contractor as to who pays for what and when.
You can wrap all of the project expenses into the loan, including soft costs, hard costs, closing costs, contingency reserve, interest reserve, and final take out.
Soft Costs: architectural plans, engineering, survey, permits, school fees, etc. In other words, pretty much everything that's done on paper.
Hard Costs: the actual cost of construction, materials, and labor.
Contingency Reserve: a percentage of all costs added as to the loan amount to be used in case of cost overruns.
Interest Reserve: during construction, monthly payments are made from this reserve account (instead of your pocket!).
For more detailed information visit the Construction Loans page.
Home Equity Loans or Lines of Credit
If the home improvements you are planning are somewhat limited in scope and your current first mortgage is less than 80% of the value of your property, you can borrow against that equity in the form of a Home Equity Loan or Line of Equity.
These loans are second mortgages, and unlike first mortgages which can be payable over a 30-year period, they are normally payable in periods of 5 to 10 years.
Home Equity Loan vs. Home Equity Line: the loan is paid out in a lump and is available as a fixed or adjustable rate. A home equity line is a line of credit that you can draw against just like a credit card, and is typically only available as an adjustable rate loan.
It is important to appreciate that in both cases; these loans are based on your property's current value and have no relationship with any equity gain you may have after the work is completed.
Calculating Equity: Let's say your property is currently worth $400,000 and you owe $220,000 on your first mortgage. Dividing 400,000 by 220,000 equals 0.55, which means your current Loan to Value is (0.55 x 100) 55%.
The equity lender will lend up to 80% of Combined Loan to Value or up to a total of your first and second mortgage of $320,000. Subtracting the existing first mortgage of $200,000 will yield a net equity line of $100,000 subject to your credit and income qualifying.
If you are planning on applying for the loan well before you are ready to start your project and the project is going to take more than a month or two to complete, then a home equity line maybe a better choice since you will not be incurring additional interest expense.
In most cases, a home equity line may be converted to a fixed rate home equity loan once you have drawn the entire amount out or are not planning on drawing additional funds.
Remodeling Loans – Renovation Financing
In many cases remodeling loans or renovation financing will be needed for updates and repairs to your home. These loans should increase the value of your home so it is important to consider what projects will offer you the best return on investment or ROI. Money spent on home improvements should also be added to your home's overall cost bases so always keep receipts. Costs associated with remodeling could be deductible from any profits realized when you do sell. In this Complete Remodeling Guide we will point out some key factors that should be considered when planning a remodeling project and point you in the right direction when applying for a home Loan.
So which renovation projects offer a good ROI? Bathrooms, kitchens and additions almost always add value and top the list. A two bath home with only two bedrooms might require another bedroom that can also function as a den or Man Cave but marketed later as a bedroom. Maybe you have three bedrooms and only one bath. This home could use that second bathroom. How about your kitchen? Upgrades here can add value and functionality to your home.
Other top choices with good ROI are: new windows, new heating or central air conditioning, new roof, garage, deck or patio and landscaping to add curb appeal.
Once you have decided on the project your next step is to calculate the cost to complete it and add that number to the value of your home. This may also be a good time to get a professional cost estimate to check your numbers. The next step is to compare that number to the value of homes in your area. Are you over-building and thus making your home harder to sell? Are you making your house the nicest, largest and most expensive in the neighborhood? The key here is -Does Your Project Make Sense in the Market? One side point here is that if you plan on living in your home for a long time and selling is not going to be an issue then the ROI becomes less of a point. In that case if you want to do the project, then by all means just do it and forget the ROI.
Once you have decided which project you want to proceed with, checked the costs and potential ROI it will be time to start looking for a lender. Many homeowners elect to go to their current bank and ask for a junior lien or second mortgage that allows them to cash in on equity built up over time. Second mortgages are like your first mortgage and you may be required to pay closing costs. Check interest rates and costs at a few lenders as the APR and costs can vary widely and note that interest and closing costs should be deductible here.
Many take an alternative path with home improvement loans and get a home equity line of credit. Unlike the lump sum second mortgage a home equity line of credit allows you to control the amount of money you take out at any given time and thus have some control over the payments. This is a great option as you have the money there when you need it but don't have to pay interest on it until you actually use it. It's just like a home credit card.
There are many other choices of lenders besides your current bank but go slowly and do some checking on any lender you are considering. The internet is a great place to shop around to make sure you are getting a fair offer. We will provide you with a few here to get you started and you can check the AdSense links below for more options.
AMS Financial We are "America's Home Improvement Loans Leader." We will find a home improvement loan for your financial situation because home improvement financing is our specialty. If you're looking to finance a home improvement project, we know how to get the loans done fast and efficiently. If you're looking for kitchen loans, sunroom loans, pool loans, or any other type of home improvement project, you've at the right place!
Wells Fargo Our financing specialists can provide loan options that fit your budget and home financing goals, freeing you to focus on floor plans and faucet styles. As the nation's leading lender to buyers of newly constructed homes 4 and a leadership sponsor of the National Association of Home Builders, we know how to make the financing of your new home simple and stress-free.
FHA home loans The Federal Housing Administration (FHA) makes it easier for consumers to obtain affordable home improvement loans by allowing loans up to $25,000 without any equity in the home. In other words, the loan can exceed the value of the home.
Home Remodel Loans | Guide to Remodeling Construction Loans
Home Remodel Loans | This Year's Guide to Remodeling Construction Loans
Remodeling construction loans and home remodel loans are a great option when it's time to take on a home improvement project. When a homeowner has to make a decision to move to a different house or remodel the one they own, there are a few things they must consider.
Giving up a low mortgage payment and moving to a new neighborhood may seem like a lot of work. In addition, moving can be expensive. Closing costs on a new mortgage, the realtor fees when selling a home, and even hiring a company to move possessions creates huge expenses.
In many cases, home remodel loans are a much less costly and less stressful choice. Loans for home improvement take many forms. Using the home as collateral, it's possible to obtain a HELOC or home equity line of credit.
Borrowing from a 401(k) account isn't recommended by most professionals, but for many people, it helps bridge the gap between the amount of money they can borrow and the amount they need to finish the project.
Personal loans and custom credit lines from a bank or credit union make great home remodel loans. They have the advantage of fast approval without high closing costs. They also keep a chunk of debt separate from the mortgage itself.
If a homeowner is also looking for a lower mortgage interest rate and also need to remodel their home, they may consider remodeling construction loans or home remodel loans as an option.
What Are The Options For Remodeling Loans?
When shopping for remodeling loans, consumers have many options. Sources of financing include:
Credit cards
Store cards from home improvement stores
Home equity line of credit (HELOC)
Personal loan without collateral
Low-interest loan from the government
Grant from a non-profit or government entity
Insurance proceeds
Using Credit Cards and Store Cards for Home Remodel Financing
Typically, credit cards and store cards come with high interest rates, even if the borrower has good credit and a high credit limit. It's important to understand the terms of the card or cards before using them as a home remodel financing option.
Rates as high as 29.99% are common. Credit cards with lower APRs may have a penalty APR as high as 29.99% if the card holder makes even one payment after the due date. Some store cards offer a 0% APR for a short time. Savvy homeowners who need home addition loans or home remodel loans use this to their advantage.
For example, if the price of a remodeling project is $25,000 and the combined credit limit on a credit card and a store card is $30,000 but the cards have a 29.99% APR, the home owner would do well to explore other options. That same home owner with good credit and a low debt-to-income ratio may qualify for traditional financing at a low rate, but choose to use a credit card with an introductory 0% APR for 12 months.
People with high income or homeowners who are expecting a windfall of income from inheritance or a company bonus in the next few months can get started on their project right away without paying interest on their purchases.
Smaller DIY home improvement projects that a home owner is comfortable with completing themselves are an ideal match for a home improvement big box retail store offering 0% APR on a new store card account. People who are loyal to one home improvement store location or brand and realize that they will be making multiple trips and spending thousands of dollars throughout the life of their project can take advantage of this short term "free money" as long as they are able to pay the balance off completely before the introductory period ends.
In many cases, after the 0% APR period is over, the interest rate reverts to between 15% and 20% annually. Home owners considering their options for loans for home improvement should keep this danger in mind.
Getting Remodeling Loans From a Bank or Private Lending Institution
People who have a solid credit history, verifiable income, and some equity in their home should sail through the application process for a remodeling loan without any problems. In some cases, it makes sense to roll remodeling loans into a new mortgage and use the home as collateral.
This offers the borrower the advantage of historically low interest rates and the simplicity of making one payment as opposed to paying off loans for remodeling separately from the mortgage each month.
How Do FHA 203(k) Mortgage Loans for Home Improvement Work?
FHA 203(k) mortgage loans for home improvement allow a homeowner to refinance their mortgage completely and add home remodel loans to the principal. This type of loan moves a mortage away from the former lender completely. The loan amount is based on the value of the home after the improvements are finished so the equity and the total amount available to borrow will be larger.
The normal term for home remodel loans inside this format is 30 years. The amount available to borrow is dependent on the county where the home is located and varies widely according to local demographics.
The advantage to these home remodel loans is that the closing costs are simplified and combined into just one loan. The entire process is streamlined to allow the homeowner to create their dream home at a low interest rate. This type of loan is backed by the federal government, as well.
Many people who want to purchase a foreclosed home in need of repairs or buy a fixer-upper house find these types of loans for home improvement the ideal solution to their problems.
Is a Home Equity Line of Credit a Good Option For a Femodeling Loans?
Many homeowners who need to make improvements or updates to their house use a simple HELOC from the same bank or lending company that holds their mortgage. This type of loan typically requires no more paperwork that an unsecured personal loan and usually has a lower interest rate, depending on creditworthiness, than a personal loan or credit card.
People who have good credit and a source of steady work simply need to verify their income, provide some personal information, and give the bank a few days to look through their credit file to get this type of remodeling loan. Getting a HELOC is a great option for kitchen remodel financing or making improvements and repairs to a home.
These types of remodeling loans work a lot like a credit card. There is a limit to the amount of money a homeowner can spend, but they'll only pay interest on the amount they borrow from the bank for the improvements. It's important for homeowners seeking a remodeling loan to pay attention to the terms. Many HELOCs come with a low introductory rate that rises at a certain point.
How to Borrow from a 401(k) Account Instead of Getting a Home Improvement Loan
A retirement account may offer the ideal way to obtain a much-needed home improvement loan. People who have a 401(k) account can typically borrow up to the lesser of $50,000 or 50% of their balance. While terms vary, it's important to understand that if the borrower loses their job or quits, the loan amount may be due within 60 days of ceasing employment with the company. If the borrower can't pay back their remodeling loans under these conditions, the amount borrowed is subject to a 10% early withdrawal fee and income tax.
A similar option for a homeowner seeking remodeling loans is a 72(t) withdrawal from an IRA. There isn't a 10% early withdrawl tax on this money. The borrower must take distributions in a series of equal payments that last for at least five years or until they turn 59 ½, whichever comes later.
Federal Government Grants for Home Improvements
Ideal for seniors on a fixed income, college students living in their first home, single parents with limited income, or anyone struggling with a difficult economic situation, getting a grant from the federal government instead of remodeling loans is a viable option.
Home repair assistance programs vary from state-to-state and from county-to-county. Sometimes, combining one of these grants with a 403(k) loan through Housing and Urban Development (HUD) is the perfect solution to a home remodel financing problem.
Non-profits often provide a portal to grants for home improvements that can be easily combined with loans for home improvements. Learning about these location-specific programs is worth the time it takes and can be a great help to people who are renovating a historic home or need to make their home handicapped accessible. Many programs also provide volunteers to help complete the necessary upgrades and repairs.
Habitat for Humanity builds new homes for people in need. They also spend time recruiting skilled volunteers to help low-income households perform critical maintenance and repairs.
The NeighborWorks program is a non-profit with roots in Congress designed to help homeowners in middle-class and low-income tax brackets update and repair their homes without taking out remodeling loans.
The Rebuilding Together program offers help to people living at or below poverty, and they are focused on making cruial repairs to homes. Most of these organizations are easy to find in an Internet search by typing in a zip code and the search term, "Habitat for Humanity," "Rebuilding Together," or "NeighborWorks.9rdquo;
Some grant programs also offer very low-interest home remodel loans for critical home repairs required to bring a home up to local codes for living standards. These home remodel loans are subsidized by the federal government and help to bring homes in need of repair up to code and increase their comfort and overall liveability.
Trends in Home Remodel Financing and Spending
According to the 2015 American Communities Survey by the Demand Institute, 73% of Americans expected to use cash for their home remodel financing.
Only 28% expected to use a credit card or store line of credit, 17% thought they would obtain a home equity line of credit with their home as collateral, and 12% planned to get a personal bank loan without collateral. Only 5% of survey respondents thought they'd use a low-interest government loan or grant for their remodeling financing.
Private Lenders Help Consumers With Money Problems Get Home Remodel Loans
People who can't get home remodel loans because of past difficulties with money management, a low FICO score, problems documenting income, or a high debt-to-income ratio often turn to the private money industry for remodeling construction loans from people who specialize in high-risk loans.
Since the banks are subject to tighter lending regulations, the traditional mortgage business is getting smaller. This type of non-traditional home remodel loan or purchase loan legally offers higher interest rate loans to consumers who have problems qualifying for any type of home remodel financing.
It also invites investors to participate with the promise that they can earn between 8% and 15% on their money if they are willing to take the risk. Bank loan standards are not flexible, so people who don't fit into the typical and desireable borrower mold often have huge problems getting traditional financing.
Since 2007, the private mortage lending world has seen a steep increase in the number of loans they finance for people with bad credit or money problems. Independent mortgage lenders now service over 40% of the total volume of home loans.
The mortgage credit availability index fell sharply between 2007 and 2009 and has since remained nearly flat, forcing people who need to get mortgages and home remodel loans to find other ways to come up with the money to fix or improve their homes.
Conclusion: Which Remodeling Construction Loan is Right Choice?
Even with the myriad of infor mation available today, it can still be difficult to decide which remodeling construction loan is the best choice. While home remodel loans are fairly easy to get for people with great credit, verifiable and ongoing employement, and some equity in their home, there are still many viable options for homeowners who find themselves in less than ideal situations.
Private lenders, home improvement grants, and government-backed lending programs offer viable choices for low-income households, seniors on fixed incomes, and even people in very difficult financial situations.
Finding traditional home remodel loans in the form of a home equity line of credit (HELOC), unsecured bank loan or personal loan, or credit cards is a good place to start. After careful evaluation of the home owner's financial situation, it may be necessary to move past these better-know options and on to 401(k) loans, FHA loans, privately backed remodeling construction loans, or local grant programs.
Reasonable efforts have been made to present accurate information, however all info is presented without warranty. Review AdvisoryHQ's Terms for details. Also review each firm's site for the most updated data, rates and info.
Note: Firms and products, including the one(s) reviewed above, may be our affiliates. Click to view our advertiser disclosures.