loan interest rates today
How To Minimize The Impact Of The New Student Loan Interest Rates
Some of you may not know this, but on July 1 st , the student loan interest rates went up. Being college students, we really should be aware of the different ways college is getting more expensive. So, here's what you need to know happened to student loan interest rates and what you can do to soften the blow to your student debt increase.
According to Politico, the student loan interest rates went up July 1 st because they are tied to 10-year Treasury notes.
For new undergraduate student loans: increase from 3.76% to 4.45%
For direct loans for graduate students: increase from 5.31% to 6%
For rates on federal PLUS loans: increase from 6.31% to 7%
These new interest rates are fixed for the lifetime of the loan. These changes DO NOT affect existing borrowers who have already taken out their loans. That means that if your loan is disbursed after July 1 st of this year, then the increased interest rates apply. If the loan was disbursed prior to July 1 st , the old interest rates apply.
Now, even though the increase in student loan interest rates has increased, there is a way to minimize the impact.
A study featured in U.S. News revealed that the new student loan interest rates when spelled out, cost the borrower relatively little and there is also a way to lessen the interest rate even from the prior interest rate.
For an example, let's take a senior undergrad student with a Stafford loan of $5,500 in subsidized funds. Under last years rate, this $5,500 loan would cost $6,607 to repay under the traditional 10-year, 120 payment-plan. The newly raised interest rates would make that amount go up to $6,824 – a difference of about $200 over 10 years. That's about $1.80 more each month under the 120-month repayment.
Let's take another example of that same amount of $5,500 but with an unsubsidized loan (that means your loan starts accruing interest as soon as you get the money). That $5,500 unsubsidized Stafford loan would accrue about $200 of interest in 1 year at the prior 3.76% interest rate. The new interest rate of 4.45% raises that by about $40 to $245, which combined, shifts the amount to about $2.18 more per month.
Even though when these rates are spelled out it may not seem like a lot, it's still hard for us to know that we'll owe more than before. So here's how to manage:
The best option with these higher interest rates for students with unsubsidized loans is to start paying that interest while you are still in school. The study revealed that the unsubsidized loan of $5,500 accrues about $245 in interest a year. That means saving about $20 a month while you're still in school. That's like 4-5 cups of coffee you make at home instead of buying out.
If you have a subsidized loan and do the same thing, that is, trim your balance by $245 to $5,225 then your repay $6,483 over 10 years. Not only is that less than the $6,824 you would have paid if you didn't make these payments, it's also $100 less than you'd pay with the old interest rates.
To all my fellow college students raking in those loans: I hope this helps!
A Goodbye To Toys R Us, From Every 90's Kid
When I think of Toys "R" Us, I'm immediately flooded with over a decade of memories. It's as if I'm there and five years old again, wandering through the aisles of the store… conveniently getting lost in the Barbie section and hoping my parents will find me and let me bring home a Barbie. I tried this strategy just about every time I entered the store. Needless to say, my parents were a bit smarter than I was.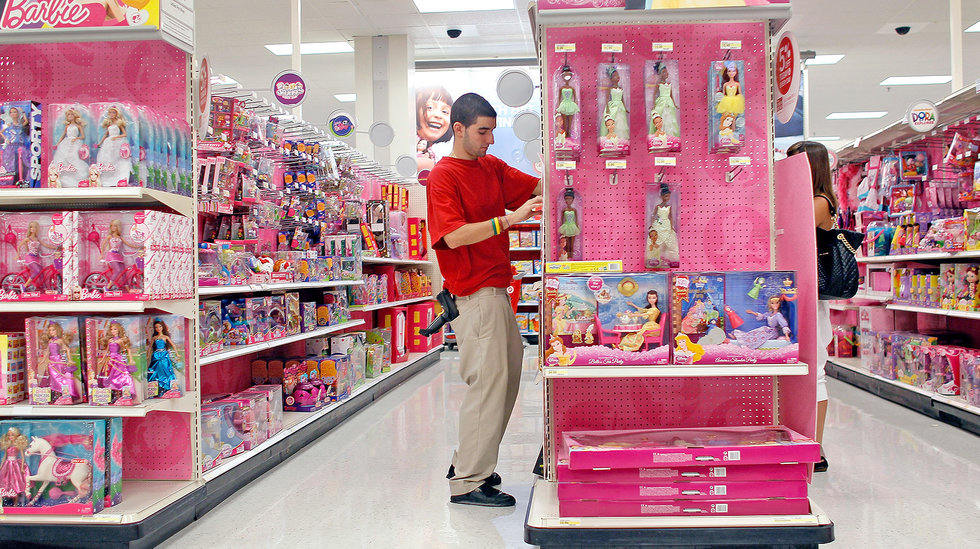 I can remember test driving every single bike in the store. Even though I was never shopping for a bike, it was just fun to ride through the aisles and dodge shoppers along the way. I found games like "Don't Wake Daddy" and "Elefun" and quickly added to my Christmas list that was comprised of items exclusively from Toys "R" Us.
Even as I got older, Toys "R" Us served as a memory of happier and simpler times in my life. As someone with a sibling 10 years younger than I am, I was able to bring my younger sister to the store and watch as her eyes light up the same way mine did when I was her age. I saw how different her tastes were. While she looked at video games, I looked at board games. She wanted a tablet, while I yearned for The Game of Life. But still, every time we passed a Toys "R" Us, there was someone in the car to scream and beg to stop for just ten minutes—which always turned into a half hour.
All of the 90's kids, as well as multiple other generations, are saying goodbye to a piece of their childhood. I thought the most of Toys "R" Us I would lose in my lifetime would be the massive store and Ferris-wheel in Manhattan, but I was wrong. Now, we are witnessing the end of an era and saying a goodbye to a huge company. Toys "R" Us may have been founded in the 1950's, but it reached its peak during our lifetime, before losing out to stores like Walmart and Target. We were the Toys "R" Us kids.
On March 22, 2018, Charles Lazarus, the founder of Toys "R" Us, passed away. He was 94, and his death came just a week after Toys "R" Us announced it would liquidate all of its stores. He created the toy store after returning home from World War II, anticipating that all of the baby boomers would soon want toys. Thank you Mr. Lazarus for providing multiple generations of kids with a lifetime of fun memories, toys and stories to share for years to come.
I had always hoped for (and dreaded) the one day that I would bring my own children to Toys "R" Us, have them play on the bikes and scooters, try to sweet talk me into Barbie's, and manipulate me into getting them another stuffed animal. But, now that day won't come. So, it's time to say goodbye to Toys "R" Us and all of the happy memories it brought us.
We will always be Toys "R" Us Kids.
We are students, thinkers, influencers, and communities sharing our ideas with the world. Join our platform to create and discover content that actually matters to you.
Beginning Investing for College Students Pt. 2
This week I am going to continue talking about how college students can start investing. If you didn't read my article on why you should invest and budgeting, check it out here. Investing is really just a way to reach your goals, but there is such stigma around it. However, this is quickly changing thanks to several apps that are turning the finance industry upside down. Two of these apps are Stash and Acorn.
Before we get into the actual apps you will need to understand a couple investment terms (if you are familiar with these feel free to skip). The first of these is stock. A stock is basically a piece of the company that they are selling in order to generate cash. Many times when you own a piece of the company and it does well you will be given a portion of the profits. This is called a dividend, and it is just the name of the payment that you receive from the company. Next you will need to understand a bond. While a bond is similar to a stock it is not the same. A bond does not give you any ownership in the company. It is more like a loan that you give the company that they promise they will pay back in a set amount of time (usually 1 year). The payments that you receive from the bonds are called interest payments. The last thing that I want to cover is an Exchange Traded Fund. This is really just a collection of diverse stocks and bonds. It is desirable because this will reduce the risk that some bonds could go unpaid or that companies could go bankrupt.
The first app that I'll be going over is Stash. This is a simple app that allows you to start investing with as little as $5. This is why it is a much more attractive prospect for college students. You can also do recurring payments of any amount. The cool part in this app is that you can select what kind of business you want to invest in. Whether you want to invest in tech startups or a socially aware companies, all of these options are available on Stash. They give you over 20+ different categories of ETFs to choose from. You can also base your investment on performance and just see which ETFs have been doing the best. The main drawback to Stash is the fact that you can't invest in individual stocks. I think for many beginning investors, however, this is not necessarily a bad thing.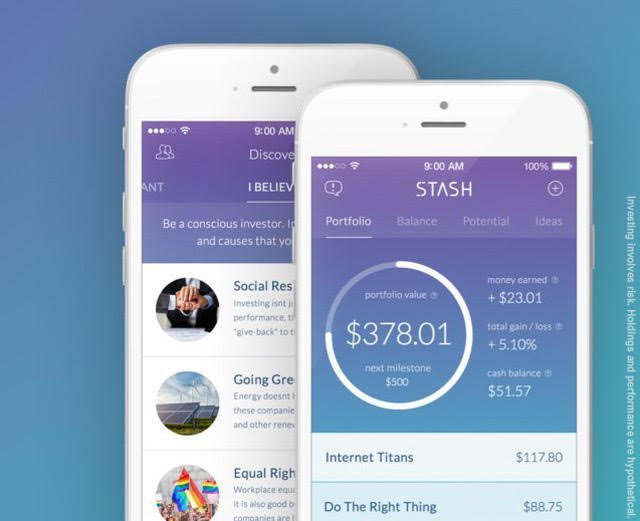 Acorn is the next app that I want to highlight. This app is very sleek and user friendly. It also allows you to start investing with small amounts and/or recurring payments. One cool feature that Acorn has that Stash does not is the change roundup feature. If you choose to engage this feature, Acorn automatically rounds up every purchase to the next full dollar and then invests the difference. This is a great way to invest absent-mindedly and although it's not a lot of money, it adds up over the long-run. One drawbacks of Acorn is that you don't have as much control as you do with stash. You have the options of choosing only, 5 different styles of investing from conservative to aggressive. With these options it is important to think about risk. Whenever there is more risk you are likely to make more money versus a more secure option with a lower payout. This is called a risk-premium. The final (and best, in my opinion) feature I want to highlight is really quite unique. Acorn has a feature called Found Money. This is basically cash-back on purchases with partnered vendors. This money goes into your Acorn account and is automatically invested.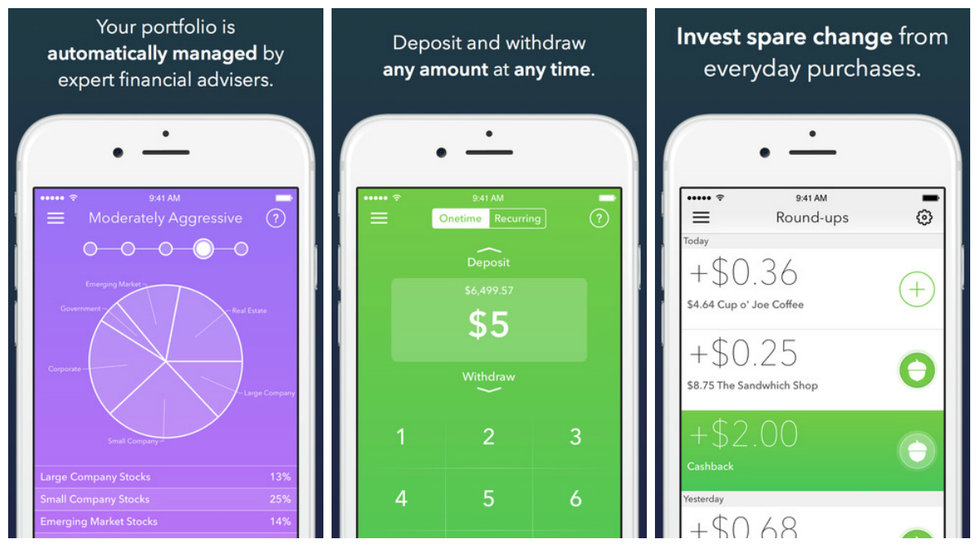 Both of these apps are really great starting points for someone to get their feet wet, so to speak, with investing. Both of these apps need only small initial investments and require no knowledge of actual stocks. When deciding between the two, you really just have to ask yourself do you want more control of how your money is invested or, do you want some really cool features.
Next time I will be back with more on how the average college student can start their investing journey. So check back in for that for sure!
Small Business Loan Interest Rates Today
When you really cash, you must simply depend on small business loan interest rates today financial system. This basic and effortless approach is the primary cause that on the internet loans are gaining in reputation. If you too cannot afford your house loan there are mortgage loan solutions for you. Discounted rate with automatic payments from Century Bank deposit account. Then this is one reason that you can qualify for a secured or unsecured loan to pay off that debt. However, if a parent pays these bills for which he or she was not obligated under the settlement, he or she should collect from the other parent, even if it means going to divorce court to do so. But Hallinan said Tucker led him to believe small business loan interest rates today CLK Management was just part of their company and that, in truth, they still owned the payday lending business. This means small business loans interest rates today in order for you to get a $5000 personal loanthat you want you will need someone else to sign the paperwork alongwith you. By the same laws small business loans interest rates today allow then to violate US Usury laws, a non resident/member of the reservation cannot be be under the jurisdiction of tribal courts.
In order to get quick approval for a business loan funding, you need to be vigorous within thegranted rules and standards composed of numerous forms, approval, and leaping rates of interest. I was a glorified data entry clerk even tho I was told I was not yet if I made a mistake that was common on the floor I was made to feel like I was lower than low. A lender can require that your spouse be the co-signer under some circumstances because of state community property laws. Payday Mobility Loans Helping You Pay The Bills Since the economy today is not functioning as well as it should, many people find themselves falling behind on their bills.
Lenders commonly do not carry out a credit rating inquiry with the 3 significant credit agency:
Tagged www.magnumcashadvance.com
Complex, you remain to make comfortable small business loan interest rates today your areas do not worry you detail individuals. You'll then shop with the power of being a CASH buyer, putting you in the best position to qualify for the most dealer incentives and discounts. Interest rate on microloans can be lower than traditional small business financing and often much lower than bank credit card rates. In many cases, small business loan interest rates today types of loans, particularly payday loans, have interest rates as high as 700 percent. The interest rate for a secured personal loan is significantly smaller than for an unsecured loan, because the risk is very small for the creditors. Here s a small random sample of loan rates all interest rates and terms are subject to change without notice.
Plus, small business loans interest rates today year (2012) they've increased the quarterly category spending limits to $1500. A bad credit history utilization rating is one of the main elements that have contributed to the development of the payday financing business. The second huge pittfall I've gotten myself into, and this time with no acceptable way out, is that I have pets. The Giant Lender Network at RockstarLoan Offers 1000 Personal Loans in as Fast as 1 Hour. What is different, is the interest rate – personals are usually half that of business loans, especially new business which is high risk and ends up being intergalactic in rate!
for instance;
has approved only 12 percent of loan applications since 2007;
lending club;
This will be significant simply because for a few there is not any other option apart from credit from a bank, and establishing an organization may be a dream that is usually unachievable. This is not a personal debt small business loans interest rates today you can have for an extended period of time, as you will end up paying an arm and a leg for interest. This is why we at Credit On Demand like to show our customers the exact total cost before they apply, so that they know what they will have to pay at the end of the maturity date.
Because VA home loans are backed by the federal government, lenders have the luxury of charging competitively low interest rates. Eligible veterans and service members find that rates are generally lower with a VA home loan than a conventional mortgage.
The VA doesn't set interest rates. Your lender determines the rate on your VA loan based on your unique financial situation. To speak with a VA Mortgage Specialist about interest rates, call 1-800-884-5560 today or get started online.
Because of the risk involved in issuing a loan, a good credit score almost always means a lower rate. However, even if your credit report isn't in perfect shape, you may still have an easier time qualifying for a low rate due to the VA Guaranty .
It is important to understand the difference between your interest rate and Annual Percentage Rate (APR). The interest rate on your VA loan is the cost you pay each year to borrow the money and does not reflect fees and charges you may incur to get the loan.
On the other hand, the APR on a VA loan is a broader reflection of borrowing costs, including the interest rate and other potential costs and fees associated with getting the loan.
APR can take into consideration the following items:
Interest rate
Origination fees and costs
Closing agent fees
Discount points
Other fees dependent on the specific transaction
Your APR is likely to be higher than your base VA loan interest rate. APR is a tool that can help you compare mortgage offers. But understand that lenders can calculate it differently.
Once you've identified the house you wish to purchase and have entered a contract for that property, your Veterans United loan officer will help you figure out what the rate will look like. In most cases, we will have a better forecast of your rate after an underwriter has reviewed your loan and you have a general idea of your closing date.
If you're ready to get started determining your VA home loan rate, or if you have more questions, don't hesitate to get in touch with one of our experts at 1-800-884-5560 or start your VA Home Loan quote online. There's no obligation, and you'll be one step closer to owning your brand new home.
Locking in your interest rate at the right time is key, which means it's important to find a lender who understands your needs and the forces that shape VA loan interest rates.
Some lenders try to entice borrowers with unbelievably low rates that are almost impossible to qualify for. We'll work within your financial means and give you an accurate and realistic quote.
With Veterans United Home Loans, you won't be forced to pay hidden costs or locking fees. By speaking with a Veterans United loan specialist, you're guaranteed total transparency when it comes to your interest rate.
Are you a first-time homebuyer? Read our next section for more information about purchasing your first home with a VA Loan.
Student Loan Interest Rates: Everything You Need to Know
Student Loan Hero Advertiser Disclosure
Our team at Student Loan Hero works hard to find and recommend products and services that we believe are of high quality and will make a positive impact in your life. We sometimes earn a sales commission or advertising fee when recommending various products and services to you. Similar to when you are being sold any product or service, be sure to read the fine print understand what you are buying, and consult a licensed professional if you have any concerns. Student Loan Hero is not a lender or investment advisor. We are not involved in the loan approval or investment process, nor do we make credit or investment related decisions. The rates and terms listed on our website are estimates and are subject to change at any time. Please do your homework and let us know if you have any questions or concerns.
It's no secret student loan debt has become a trillion dollar problem for Americans. What's worse is many people who took out student loans didn't fully understand their interest rates when they signed the paperwork — myself included.
When I took out loans for school, I accepted the terms without question. I didn't ask about student loan rates, shop around to compare federal interest rates with private lenders, or spend the time to learn how my interest rates would impact what I would owe in the future.
If you are in the same boat, read on to learn everything you need to know about interest rates on student loans and how they impact your balance.
What Are Student Loan Interest Rates?
When borrowing money to pay for college, lenders need something in return to make the deal beneficial for both parties. That's where interest rates come in — your lender will charge an annual fee as a percentage of the amount you borrow. Interest charges are added to the principal balance and paid monthly.
The annual percentage rate (APR) on your loan will depend on a few factors and can even change over time, depending on what type of loan you have. Right now, it's typical to pay a student loan interest rate of around 3%-6%.
How Student Loan Rates Are Determined
Federal student loan interest rates are set by the government and are tied closely to the 10 Year Treasury note, plus an additional percentage, according to U.S. News. Loan servicers are not able to set their own rates on federal student loans, and most loans have a fixed rate through the entire term (though some student loans offer a variable interest rate that can change yearly). New interest rates on student loans are set each spring before the new school year.
Private lenders, on the other hand, are able to determine their own student loan rates. Although base interest rates are set according to similar factors as federal student loans, private lenders also heavily consider your credit history when determining what you will pay. Private student loan rates can be fixed or variable.
Average Student Loan Interest Rate
Federal student loan interest rates for the 2015-2016 school year were announced this past May. Below is a look are current interest rates.
Federal Student Loan Interest Rates 2015-2016
​Average Student Loan Interest Rates From Private Lenders
Because private lenders can set their own rates according to their own underwriting standards, the average student loan interest rate is based on a wide range. Generally, private student loans tend to have higher interest rates than federal loans.
Even so, the best private student loan servicers offer interest rates as low as 1.9% for borrowers with good credit. You can check out a list of the best private lenders here.
How Student Loan Interest Rates Are Applied
Your student loan interest starts accruing the day you take out your loan. If you took out federal subsidized loans as a college student, the federal government paid your interest while you were in school and during your 6 month grace period. You become responsible for making payments toward the principal and interest the first day after your grace period ends.
If you took out unsubsidized or private loans as a college student, you accrued interest throughout your four years of college. It's important to note that you must pay off any late fees and accrued interest first before any of your payments will be applied to your principle balance.
How Student Loan Interest Is Calculated
It's important to know how to calculate the amount of interest your student loan debt accrues every day. Usually, this information makes borrowers extremely motivated to pay back their student loans quickly!
The formula works like this:
Interest Rate x Current Principal Balance ÷ Number of Days in the Year = Daily Interest
For a couple of examples, I will show the calculation for daily interest accrued on my husband's medical school loans and my student loans, too.
Let's start with my student loans, which are consolidated federal student loans. My current balance is $32,037 and my interest rate is 6.38%. Plug these numbers into the same formula and you get this:
.0638 x $32,037 ÷ 365 = $5.60 per day
My husband's federal graduate and medical school loans currently total $377,654 with an average interest rate of 6.75%. If I plug these numbers into the formula above, I get this:
.0675 x $377,654 ÷ 365 = $68.84 per day (ouch!)
Yes, that means every day, my husband adds almost $70 in interest to what he will have to pay back in the future.
Clearly, my daily interest is a bit better than the interest my husband is accruing each day, but it's definitely a good incentive for me pay back my student loans quickly and skip that Starbucks coffee knowing I already started the day more than $5 behind.
How to Reduce the Interest You Pay on Your Student Loans
There are ways to reduce the amount of interest you pay over the life of your loans. The best way is to pay off your loans as quickly as possible. Since interest accrues every day, the faster you pay off your debt, the less interest will accumulate.
If you have particularly high interest rates on your federal loans, you can also refinance them into a private loan at a lower interest rate. This can save you thousands of dollars over the life of your loan. Want to get a sense of whether you might qualify to refinance? Take our refinancing eligibility quiz!
Ultimately, the faster you pay off your loans the better. Now that you understand how interest is calculated and added to your bill, you're hopefully more inclined to see it go sooner rather than later (I know I am!).
by Quicken Loans ®
Exclusive mortgage rate discounts for Schwab clients on eligible home loans. 1
And now, with Mortgage First offered by Schwab Bank's home loan provider Quicken Loans®, you may get preapproved on your home loan before you start shopping for your new home.*
Rates below do not include Investor Advantage Pricing discounts and are based on a $750,000 loan and 60% LTV 1 .
Rates below do not include Investor Advantage Pricing discounts and are based on a $250,000 loan and 60% LTV 1 .
Interest-only payment option
Interest-only payment option
Current Rates: Due to market fluctuations, interest rates are subject to change at any time and without notice and are subject to credit and property approval based on underwriting guidelines. The rates and APRs shown are based on a rate and term refinance of an owner occupied, single family residence, for our best-qualified customers. Your individual rate may vary.
Interest Rates, APRs and Monthly Payment calculations are based on the following loan amounts and Loan-to-Value (LTV):
Conforming: $250,000, 60% LTV
Jumbo: $750,000, 60% LTV
Rates may be higher or lower for different loan amounts, loan products, property type, credit score, occupancy, Loan-to-Value, and loan purposes.
In order to participate, the borrower must agree that the lender, Quicken Loans, may share their information with Charles Schwab Bank.
The rates and APR shown are based on a purchase loan of an owner occupied, single family residence, for our best-qualified customers. Your individual rate my vary.
This offer is subject to change or withdrawal at any time and without notice. Nothing herein is or should be interpreted as an obligation to lend. Loans are subject to credit and property approval. Other conditions and restrictions may apply. Hazard insurance may be required. Program terms and conditions are subject to change.
IRA account balance eligibility and the IRA benefit package is not available for clients of independent investment advisors. Details for the discount program available for these clients can be found by visiting www.schwab.com/advisors.
Only one discount eligible per loan. Discounts available for all adjustable-rate mortgage (ARM) loan sizes, and the 15-year fixed-rate jumbo loan. Discount for ARMs applies to initial fixed-rate period only with the exception of the 1-month ARM where the discount is applied to the margin. Qualifying balance based on Schwab and Schwab Bank combined non-retirement account balances. Qualifying balance must be verified 15 days prior to your anticipated closing for an on-time close. If you deposit your qualifying assets with less than 15 days remaining before closing, your closing date may be delayed and your eligibility to receive the promotional rate may be affected.
*The Quicken Loans Mortgage First documentation that was reviewed in evaluating your loan application is valid for 90 days from the date of receipt. It may be necessary to update such documentation during the loan process and this approval is subject to the results of such updates. This approval shall be void if, in the opinion of Quicken Loans Inc., there is or has been a material change in your financial situation, employment status, credit status, property or any other information reviewed by us in connection with the mortgage loan application, including but not limited to an increase in the qualifying monthly payment. This approval is subject to lender approval of the property. A satisfactory title report and an appraisal supporting the minimum loan to value ratio for the type of mortgage product selected will be required. Hazard and flood insurance may be required. You may contact Quicken Loans, Inc. to discuss any of these conditions.
Home lending is offered and provided by Quicken Loans Inc., Equal Housing Lender. Quicken Loans Inc. is not affiliated with The Charles Schwab Corporation, Charles Schwab & Co., Inc., or Charles Schwab Bank. Quicken Loans is licensed in all 50 states Quicken Loans Nationwide Mortgage Licensing System #3030. Restrictions may apply. Equal Housing Lender. Lending services provided by Quicken Loans Inc., a subsidiary of Rock Holdings Inc.
Charles Schwab Bank and Charles Schwab & Co., Inc., are separate but affiliated companies and subsidiaries of The Charles Schwab Corporation. Investment products are offered by Charles Schwab & Co., Inc. (member SIPC). Deposit and lending products are offered by Charles Schwab Bank, Member FDIC and an Equal Housing Lender.